Jamaica Labour Market Information System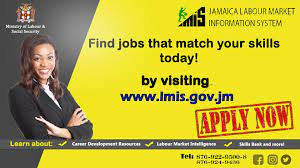 The Jamaica Labour Market Information System (LMIS) is a job matching facility as well as a database consisting of information collected from a number of labour market information producers and shared via the web site to improve access.
Individuals may register with the LMIS by visiting the lmis.gov.jm website. They may also download the LMIS app, which can be obtained from Google Play for Android devices. For persons who do not have access to a computer or to the internet, the Ministry of Labour and Social Security had partnered with the Ministry of Education Youth and Information (MOEYI) to use the Jamaica Library Service network to accommodate job seekers on their computers.